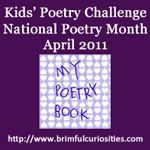 Welcome to the third of five "My Poetry Book" Kids' Poetry Challenge post link-ups! In celebration of National Poetry month, we're challenging other parents and kids to explore the world of poetry together.
Each week in April we hope you'll consider reading a poem (any poem, not just the one we have featured) with your child and then encourage your child to create an illustration based on the poem. This type of creative activity helps your child more thoroughly understand the poem and interpret it in his or her own way. If you would like to participate, please refer the original
Kids' Poetry Challenge
post and read the guidelines.
***Note: A few readers have mentioned that their child does not really like drawing or is not old enough to draw anything recognizable. If you prefer, please feel free to just post a favorite poem you shared with your child this week. Remember to only post a portion of the poem to avoid copyright issues.
We've tried to make it very simple for everyone to participate. Reading a poem together only takes a few minutes. The link-up will remain open all week long. Post the picture and accompanying text any day of the week and, if you have the time, stop by and visit the other participants' posts.
⚜ ⚜ ⚜ ⚜ ⚜ ⚜ ⚜ ⚜ ⚜ ⚜ ⚜ ⚜ ⚜ ⚜ ⚜ ⚜ ⚜ ⚜ ⚜ ⚜
Over the course of this month I've learned that my daughter and son both like to read narrative poems, the kind of poetry that tells a story. They also especially enjoy poems about animals or fantasy creatures. In the poetry book we reviewed last week,
Poetry Speaks to Children
, we ran across a partial poem by Odgen Nash, "The Tale of Custard the Dragon."
"The Tale of Custard the Dragon" is about a "brave" little girl named Belinda and her "cowardly" pet dragon called Custard. We wanted to read the realio, trulio poem in its entirety and found a wonderful picture book version titled
The Tale of Custard the Dragon
, illustrated by Lynn Munsinger at our public library. Munsinger really brings the cowardly pet dragon to life and both kids listened to the humorous story with rapt attention. The poem contains several similes that help create some wonderful imagery and with fun, rhyming verses, it's an extremely enjoyable read aloud (so long as your kids can stomach a gun-slinging pirate who meets an unfortunate demise).
"The Tale of Custard the Dragon" originally appeared in Nash's
The Bad Parents' Garden of Verse
(1936) and later on as a stand alone story in the picture book version,
Custard the Dragon
(1959), illustrated by Nash's own daughter Linell! I'd really love to acquire a copy of Linell's version sometime just to see the illustrations.
The Tale of Custard the Dragon

Belinda lived in a little white house,
With a little black kitten and a little gray mouse,
And a little yellow dog and a little red wagon,
And a realio, trulio little pet dragon.

Now the name of the little black kitten was Ink,
And the little gray mouse, she called her Blink,
And the little yellow dog was sharp as Mustard,
But the dragon was a coward, and she called him Custard.

Custard the dragon had big sharp teeth,
And spikes on top of him and scales underneath,
Mouth like a fireplace, chimney for a nose,
And realio, trulio daggers on his toes. ...

Odgen Nash
Both my daughter and son love Custard best of all, and they chose to illustrate him with a "mouth like a fireplace."
I quickly drew a dragon for my toddler son so he could participate this week. He added his own fire illustrations and colored the dragon.
⚜ ⚜ ⚜ ⚜ ⚜ ⚜ ⚜ ⚜ ⚜ ⚜ ⚜ ⚜ ⚜ ⚜ ⚜ ⚜ ⚜ ⚜ ⚜ ⚜
I'm linking up to Poetry Friday and Feed Me Books Friday! This week's Poetry Friday is hosted by
Random Noodling
. Head over to her blog for more poetry posts and consider joining the Poetry Friday link-up. Link up your Friday book posts at
Little Sprout Books'
Feed Me Books Friday
.
I am an Amazon affiliate and may receive a very small commission for products purchased through my Amazon links.
(View my full disclosure statement for more information about my reviews.)