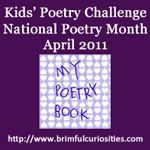 Welcome to the second of five "My Poetry Book" Kids' Poetry Challenge post link-ups! In celebration of National Poetry month, we're challenging other parents and kids to explore the world of poetry together.
Each week in April we hope you'll consider reading a poem with your child and then encourage your child to create an illustration based on the poem. This type of creative activity helps your child more thoroughly understand the poem and interpret it in his or her own way. If you would like to participate, please refer the original
Kids' Poetry Challenge
post and read the guidelines.
***Note: A few readers have mentioned that their child does not really like drawing or is not old enough to draw anything recognizable. If you prefer, please feel free to just post a favorite poem you shared with your child this week. Remember to only post a portion of the poem to avoid copyright issues.
We've tried to make it very simple for everyone to participate. Reading a poem together only takes a few minutes. The link-up will remain open all week long. Post the picture and accompanying text any day of the week and, if you have the time, stop by and visit the other participants' posts.
⚜ ⚜ ⚜ ⚜ ⚜ ⚜ ⚜ ⚜ ⚜ ⚜ ⚜ ⚜ ⚜ ⚜ ⚜ ⚜ ⚜ ⚜ ⚜ ⚜
Last year during National Poetry Month I learned of a wonderful anthology for children called
Poetry Speaks to Children
. The book includes a nice variety of 95 poems from 73 poets, many familiar along with some not as well-known. The layout is attractive and only one or two poems appear on each page. Nearly all the poems are illustrated. Because of the vast array of poems featured and the lovely layout, this book appeals to a wide audience range, from preschoolers to older kids to adults. What makes this book particularly wonderful though is the accompanying CD that includes 52 of the poems from the book. Most of the poems on the CD are read by the poets themselves. The poetry actually speaks!
Of all the poems in the book, my daughter likes Mary Ann Hoberman's "Rabbit" the best. Perhaps she likes it best because she can read it herself (certainly not because of the beet). Hoberman often plays with words in her poems and pays much attention to the arrangement of the words and the shape of the poem. With "Rabbit" Hoberman puts all the "bits" in a line.
The same rabbit poem also appears in another of our favorite poetry books,
The Llama Who Had No Pajama: 100 Favorite Poems
by Mary Ann Hoberman, illustrated by Betty Fraser. The
full text of "Rabbit"
can be viewed in a book preview at Google Books.
⚜ ⚜ ⚜ ⚜ ⚜ ⚜ ⚜ ⚜ ⚜ ⚜ ⚜ ⚜ ⚜ ⚜ ⚜ ⚜ ⚜ ⚜ ⚜ ⚜
I'm linking up to Poetry Friday! This week's Poetry Friday is hosted by
Madigan Reads
. Head over to her blog for more poetry posts and consider joining the Poetry Friday link-up.
I am an Amazon affiliate and may receive a very small commission for products purchased through my Amazon links.
(View my full disclosure statement for more information about my reviews.)