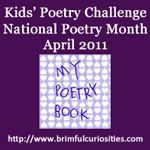 Welcome to the first of five "My Poetry Book" Kids' Poetry Challenge post link-ups! In celebration of National Poetry month, we're challenging other parents and kids to explore the world of poetry together.
Each week in April we hope you'll consider reading a poem with your child and then encourage your child to create an illustration based on the poem. This type of creative activity helps your child more thoroughly understand the poem and interpret it in his or her own way. If you would like to participate, please refer the original
Kids' Poetry Challenge
post and read the guidelines.
We've tried to make it very simple for everyone to participate. Reading a poem together only takes a few minutes. The link-up will remain open all week long, so feel free to post the picture and accompanying text any day of the week and, if you have the time, stop by and visit the other participants' posts.
⚜ ⚜ ⚜ ⚜ ⚜ ⚜ ⚜ ⚜ ⚜ ⚜ ⚜ ⚜ ⚜ ⚜ ⚜ ⚜ ⚜ ⚜ ⚜ ⚜
Here's my daughter's first selection:
The Fairy Dew Drop

Down by the spring one morning
Where the shadows still lay deep,
I found in the heart of a flower
A tiny fairy asleep. ...

... All the colors of the rainbow
Were in her robe so bright
As she danced away with the sunbeam
And vanished from my sight.

Laura Ingalls Wilder - February 1915
The poem is from a slim volume of poems titled,
Laura Ingalls Wilder's Fairy Poems
, compiled by Stephen W. Hines and illustrated by Richard Hull.
I never realized that Laura Ingalls Wilder had written anything but the Little House books, so her fairy poems came as a bit of a surprise to me. According to the introductory chapter by Hines, Wilder wrote articles for various newspapers before she wrote her books, and she wrote the fairy poems for the
San Francisco Bulletin
.
Only five short poems appear in
Laura Ingalls Wilder's Fairy Poems
. My daughter chose to illustrate the first poem, "The Fairy Dew Drop," a poem about a fairy named Drop O'Dew who takes care of flowers. The quaint, happy poems are all simple enough for young children to cherish and a refreshing alternative to the Disney Fairies kingdom.
Interestingly enough, Wilder's poems were all written in 1915, after Barrie's
Peter Pan
but before the Cottingley Fairies photographs and Cicely Mary Barker's popular flower fairies illustrations. Even with her poetry, she was, in a sense, a pioneer.
⚜ ⚜ ⚜ ⚜ ⚜ ⚜ ⚜ ⚜ ⚜ ⚜ ⚜ ⚜ ⚜ ⚜ ⚜ ⚜ ⚜ ⚜ ⚜ ⚜
I'm linking up to Poetry Friday! This week's Poetry Friday is hosted by Amy at
The Poem Farm
. Head over to her blog for more poetry posts and consider joining the Poetry Friday link-up.
I am an Amazon affiliate and may receive a very small commission for products purchased through my Amazon links.
(View my full disclosure statement for more information about my reviews.)