"Children rarely gravitate to poetry on their own. It's an acquired taste. They must be introduced to it early and often by their teachers and parents, the critical influences in their lives."
- "
Can Children's Poetry Matter?
" by J. Patrick Lewis
Last year my daughter had so much fun illustrating her own poetry book we thought maybe other kids might like to join in the fun this year! We are hosting a poetry challenge during the month of April in celebration of
National Poetry Month
.
It's simple to participate and a great way to introduce children to the world of poetry.
♦ Every week in April encourage your child to illustrate a poem, any poem. If they are older they can compose their own poem and/or practice their handwriting by writing the poem on their picture.
♦ Each Friday post the illustration on your blog and include part of the text* of the poem your child illustrated. If the poem came from a poetry book, consider adding the source information as well. (If you can't post on Friday, don't worry! The link-up will remain open all week long, so feel free to post the picture any day of the week.)
*
According to the KidLitosphere site, to avoid problems with copyright, "if a poem is under copyright protection (and most contemporary ones are), only a couple of lines can be quoted under fair use."
♦ Link up to the My Poetry Book Kids' Poetry Challenge Post on Brimful Curiosities each Friday. Also, consider joining the
Poetry Friday link-up
during the month of April.
Need an example for inspiration?
My Poetry Book Entry #3: A Duck Poem
Kids' Poetry Challenge Button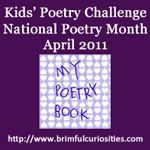 Poetry For Children Resources:
A Treasury of Read-Alouds: Poetry for Children
by Jim Trelease
Judy Freeman's 150 Favorite Poetry Books for Children
Children's Poetry - The Poetry Foundation
Reading Rockets: National Poetry Month
Tips For Reading with the Very Young
by Jack Prelutsky [pdf]
Brimful Curiosities: Read Aloud Poetry
Book Aunt: A Handful of Poems: Five Anthologies for Small Children
A Few Children's Poets Websites
:
J. Patrick Lewis | Children's Poet & Author
Kenn Nesbitt's Poetry4kids.com
Mary Ann Hoberman
Jack Prelutsky
Shel Silverstein
Dr. Seuss | Seussville.com
Kidlitosphere Celebration of Poetry Month
:
GottaBook
- 30 Poets/30 Days
Liz Garton Scanlon
- Original Haiku-a-Day
Jone MacCulloch
- 30 Days-30 Students
Jama Rattigan: 2nd Annual Poetry Potluck
Irene Latham's Poetry Party
EduHaiku
- students write school-related haiku
A Wrung Sponge
- haiga (original haiku + photos)
April Halprin Wayland
- Original Poem-a-Day
Susan Taylor Brown
- Original Poem-a-Day
Deo Writer
- Original Poem-a-day
books4yourkids.com
- Poem-a-Day
Mary Lee Hahn
- Original Poem-a-day
Miss Rumphius Effect
- Poetry in the Classrom
Lee Wind
- GLBTQ Teen Poetry
Biblio File
- poems or review of a novel-in-verse
Writer on the Side
- reviews on Thursday plus other poetry related posts
The Poem Farm
- poem idea-strategies or poetic techniques
National Poetry Month Poetry Friday schedule:
April 1
http://poemfarm.blogspot.com/
April 8
http://www.madiganreads.com/
April 15
http://randomnoodling.blogspot.com/
April 22
http://bookaunt.blogspot.com/
April 29
http://www.tabathayeatts.blogspot.com/
I do hope you'll consider joining our poetry challenge. Check back this Friday, April 1st, for the first link-up.
To help encourage participation, I'm giving away a paperback copy of the poetry book,
The Tighty Whitey Spider: And More Wacky Animal Poems I Totally Made Up
by Kenn Nesbitt, illustrated by Ethan Long. Every time you link up a post to one of my Friday Kids' Poetry Challenge posts, you gain one entry in the giveaway contest!
"Poetry is the music of the soul, and, above all, of great and feeling souls."
- Voltaire