5 Minutes for Books is holding a
Fall Festival of Children's Books
this week and we are joining in the celebration by listing our favorite picture book this month. We live in the Midwest and both my kindergartener and toddler enjoyed reading this beautifully illustrated ABC picture book by Arthur Geisert.
Country Road ABC: An Illustrated Journey Through America's Farmland
by Arthur Geisert;
Houghton Mifflin
(May 2010); ISBN 9780547194691; 64 pages; Copy from our local library
This isn't your ordinary farm book. It also isn't your average ABC book.
County Road ABC
captures a way of life - the life of farmers living in a small farming community, or more specifically, the life along Iowa County Road Y31. Like in his other books, Geisert creates the illustrations using a copper-plate etching process combined with watercolors and acrylics and the resulting pictures are extraordinarily detailed. Starting with A is for ammonia fertilizer and ending with Z is for z-brace, the letters of the alphabet help describe various aspects of country life. The text is rather sparse, but the illustrations ... Wow! They are amazing.
I've lived most of my life in and near small farming communities. The landscapes portrayed in the book, particularly the panorama picture that continues on the bottom edge page after page, accurately represent many of the country roads that I've traveled on. The book even depicts the seasons starting with the spring thaw and circling through summer, fall and the snowy, cold winter. The reader really does get a sense of what it is like living in a rural area. There's farm animals, a country church and graveyard, an abandoned one-room schoolhouse, a village parade, tractors in the fields, and even images of the volunteer fire department - this is the small town, rural Midwest that we know. My son's favorite part of the book is the page with the line of cars following a combine. That's not surprising, given the number of combines we've noted in the fields lately. My daughter commented on the page with the one room school and wanted to know more about the outhouses, one with the sun/star and the other with the moon. We had to look up more about outhouses online after reading the book.
Even though my kids do not live on a farm, they live near farmers and farming communities. I want them to understand the country life because it is in their blood. Their grandparents and great-grandparents grew up on farms. We still visit my grandparents' farm and drive on many country roads to get there. It's a way of life worth understanding. We enjoyed reading about it, experiencing it through the pictures in this book, and learning our ABCs along the way.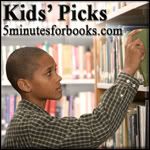 For more September kids' picks, visit
5 Minutes for Books
and also check out the
Fall Festival of Children's Books
celebration.
I am an Amazon affiliate and may receive a very small commission for products purchased through my Amazon links.
(View my full disclosure statement for more information about my reviews.)