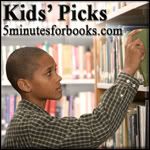 Here are two of our favorite reads from this month. For more August kids' picks, visit
5 Minutes for Books
.
Daughter's Pick (Kindergarten)
The Night Fairy
by Laura Amy Schlitz, illustrated by Angela Barrett;
Candlewick Press
(February 2010); ISBN 9780763636746; 128 pages
The Night Fairy
is a fascinating, imaginative and spellbinding story about a small night fairy named Flory who makes the most of a difficult situation by using her survival instincts. She loses her wings when a bat mistakes her for a moth and she ends up falling into a giantess's garden. Resourceful, though sometimes selfish, Flory quickly learns how to cope in her new environment. With themes of friendship and forgiveness, the book beams brightly. Schlitz has a wonderful way with words and the fanciful illustrations by Barrett pair perfectly with this imaginative read. The full color pictures are so gorgeous and detailed, and my daughter spent a lot of time looking at them. I'd highly recommend the book to children interested in fairies and woodland animals. I read the book aloud to my 5 year old daughter and she loved it, especially the part featuring the hummingbird, though she did find the spider a little scary and felt sad when the fairy lost her wings. Most of the plot is slightly suspenseful so it might not be the right choice for very sensitive, younger readers. However, the book is perfect for provoking discussions on nature, bravery, friendships and survival in the animal world. I like the book so much I plan to purchase a copy for our home library.
Son's Pick (Toddler)
A Particular Cow
by Mem Fox, illustrated by Terry Denton;
Harcourt Children's
(September 2006); ISBN 9780152002503; 40 pages
We see plenty of cows around our area, so it isn't surprising both my kids loved Mem Fox's
A Particular Cow
picture book. They must like the way the word "particular" sounds, too, because it appears on nearly every page spread. In this very silly and humorous book, one particular cow goes on particular walk on particular Saturday morning. A series of ridiculous, particular events occur after the cow gets a pair of bloomers caught on her head. Bloomers - not a word one usually finds in a picture book, but that is part of the charm of this read! Many of the involved characters make funny comments along the way and the comments are shown in word balloons. Denton's cartoonish illustrations greatly add to the hilarity. I found the book really fun to read aloud and we've read it nearly daily since we picked it up at the library. Simply and particularly silly!
I am an Amazon affiliate and may receive a very small commission for products purchased through my Amazon links.
(View my full disclosure statement for more information about my reviews.)