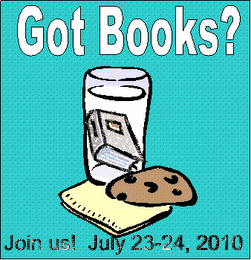 Welcome to all the
Got Books? event
visitors and a special hello to my regular readers. I'm Janelle, and this is my Brimful Curiosities blog. Sometimes children's books...sometimes not - that pretty much sums it up for those not familiar with my little corner of the blog world. We read a lot of children's books in our home. Some of those books we review. Sometimes we do crafts. And once and awhile at night, when all is still and quiet, I read a lot of everything else.
So, here's the deal. This summer has been far busier than I expected. With last minute vacations, all the summer activities and children that want to spend every last minute of the day outdoors, I haven't had as much time for blogging or reading. I've encountered difficulties trying to find the time just to post my weekly
Full to the Brim Children's Book Giveaway
posts (by the way, if you like giveaways, be sure to check them out). That means I have a stack of books that I'm hoping to review soon and many more in the to-be-read pile. And, to top it off, my list of want-to-reads grows larger every day as I read all those awesome reviews out there. I couldn't decide what to giveaway for this event or what book(s) I wanted to highlight, so I'm keeping it simple and leaving that decision up to you.

For the Got Books event, I am giving away a children's or YA book of your choice $20 or under from Amazon.com. (Winner specifies their choice of book after contest ends.) But to enter for your chance, you must answer the following question:
We have about a month left of summer before school starts. What new book (published in 2010) should my young children and I read together before our summer vacation ends? Or, what new 2010 book would you recommend I read during one of my late night, quiet moments sans children?
To enter, leave a comment with your book suggestion.
• For contact purposes, if you are a non-blogger or your email is not accessible in your blog profile, please leave a valid email address within the comment section.
• Contest is open to US/Canada
• Contest ends on Saturday, July 24th, 2010 at 11:59 PM CST.
• Winner will be chosen at random and sent an email notification.
Three ways to gain extra entries (Maximum total entries is 4; please leave a separate comment for each entry):
1st extra entry: Blog about this contest then post your link in the comment section.
2nd extra entry: Follow me on twitter (
iambrimful
) and tweet about the contest.
3rd extra entry: Follow Me! or subscribe by email or RSS reader
Got time to enter a few more giveaways? There's over 100 blogs participating in the
Got Books? event
! Thanks to
There's A Book
and
Satisfaction for Insatiable Readers
for all their work organizing this fun giveaway hop!
And don't forget to also enter my
Despicable Me Book Set Prize Pack
giveaway. Ends 7/26/10. The giveaway is for a large set of tie-in books from the new movie. Check back next week for another giveaway - books from the popular 39 Clues series!