Today, several book bloggers are meeting at the
BBC Convention
in NY and discussing various blogging topics including Writing and Building Content as well as Marketing. A while back, another blogger asked me how I connect with other blogging moms that love books. The book blogging community is a wonderful place to start, but I've also connected with a number of wonderful book-loving moms outside the book community. Most often I've discovered their blogs while participating weekly meme/link-ups. As far as building content for blogs, do like the link-ups. I follow so many great bloggers and would love to read each and every one of their posts every day, but the reality is that my personal life just doesn't allow me unlimited time online reading hundreds of daily posts. The weekly link-ups give me a chance to reconnect weekly with bloggers I've met over the last two years. The memes also serve another purpose in providing me with some inspiration and motivation for my book review postings.
Florinda at The 3 R's Blog
offers a slightly different view of memes today on her blog. I do agree that sometimes bloggers rely a little too much on memes for content builders. And I also agree that it's important to make sure to personalize meme posts so that readers can get a sense of, as Florinda says, the "voice of its writer." But I disagree with the statement that a book blogger can outgrow memes. If you have a book blog and are serious about getting the word out about your blog, you would be doing yourself a disservice by ignoring memes and link-ups. When I spend my precious time writing a review, I sure hope that someone will take the time to read it. And from my experience, the posts I've written for link-ups in general get more traffic. But here's my little secret about participating in memes and content. Chose ones that allow you to post on a topic that could easily stand alone without the meme. Make memes a bonus, not the driving force behind a post. Your original content will shine through and just maybe someone new will stop by your blog and say hi!
Zoe at Playing By the Book posted a couple great lists of
kids' book memes
and
weekly play memes
in April. I've expanded her lists and also added a few other general memes. There's also a good list of memes in the
Book Blogger Appreciation Week Events Calendar
. If you know of any other memes that fit this list, please let me know!
Childrens' Book Related Weekly Memes, Link-ups and Round-Ups:
Nonfiction Monday
- host schedule at Picture Book of the Day
Book Sharing Monday
at Serendipity Home School
Winning Kids
at Winning Readings
stART
(Story + Art) at A Mommy's Adventures
Read-Aloud Thursday
at Hope is the Word
Feed Me Books Friday
at The Adventure of Motherhood
Poetry Friday
- host schedule at Kidlitosphere
Fairy Tale Fridays
at Tif Talks Books
Retro Friday
at Angieville
What My Child Is Reading
at Mouse Grows, Mouse Learns
Kid Konnection
at Booking Mama
Other Book Memes:
The Sunday Salon
at The Sunday Salon
In My Mailbox
at The Story Siren
Mailbox Monday
at The Printed Page
It's Monday! What Are You Reading?
at Book Journey
The Book List
at Lost in Books
Teaser Tuesdays
at Should Be Reading
WWW Wednesdays
at Should Be Reading
A-Z Wednesday
at Reading At The Beach
Book Review Wednesdays
at Cym Lowell
Booking Through Thursday
at Booking Through Thursday
Book Blogger Hop
at Crazy for Books
Friday Finds
at Should Be Reading
Saturday Review of Books
at Semicolon
General Memes:
Wordless Wednesday
or
Wordful Wednesday
hosted by several blogs including 5 Minutes for Mom and Seven Clown Circus.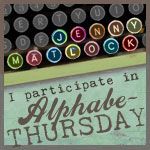 Alphabe-Thursday
at Jenny Matlock
Some other lists of memes:
Mom's Blog Resource Memes
I Blame My Mother List of Memes and Carnivals
Read more ArmchairBEA posts relating to BBC topics at today's Book Blogger Convention Roundtable linkup.