Pete the Cat: I Love My White Shoes

by Eric Litwin; illustrated by James Dean. HarperCollins (March 2010); ISBN 9780061906237; 40 pages
(Book Source: Review copy from publisher)
I'm not sure what our cat would do if we tried to put shoes on his feet, but I bet he wouldn't appreciate it one bit. However, a blue cat named Pete, in the book titled
Pete the Cat: I Love My White Shoes
, doesn't have a problem with shoes and wears his styling white pair everywhere. While he walks, he sings this song, "I love my white shoes, I love my white shoes, I love my white shoes." His song and shoe color changes along the way as he walks through various colored piles of strawberries, blueberries, mud and even a puddle of water. Does he get worried? "Goodness, no!" He just keeps walking along, singing his song.
This singable and groovy picture book is by an interesting author and illustrator pairing. Eric Litwin, a songwriter, approached artist James Dean about his
blue cat paintings
and decided to write a song and book about the cat. The pair first self-published the book, and HarperCollins eventually snatched it up. You can read more about the inspiration behind Pete the Cat and his shoe story
here
. Inside the book is a card that lists a website where you can listen to the song for free. My kids both enjoy singing the cute and easy to remember song along with me as we read the book together. There's plenty of repetition, the book teaches color recognition and it even has a moral of sorts--keep going no matter what happens because it's all good.
The book reminds me a little bit of one of my favorite stories from childhood,
Harry the Dirty Dog
by Gene Zion and Margaret Bloy Graham
.
Storyline Online
has videos of stars reading popular picture books. Recently they added an awesome video of Betty White reading
Harry the Dirty Dog
. If you've never been there, it is worth a visit!

Related Links:
http://www.ericlitwin.com/
http://www.petethecat.com/
Pete the Cat Shoe Coloring Page
[pdf]
Pin the Shoe on Pete Printable
[pdf]
Pete the Cat Find a Match Game
[pdf]
❖❖❖❖❖❖

stART Project

-

Pete the Cat Dry Erase Cutouts

❖❖❖❖❖❖
The book is all about Pete's shoes getting dirty and changing color, so I decided to try and help the kids recreate the story by making some Pete the Cat cutouts covered in contact paper.
The kids used dry erase markers to color Pete's shoes in any color they wanted.
When they wanted to change the colors of the shoes, they just used a paper towel to erase the marker.
We even had our Pete the Cat pictures walk through some blackberry jelly (I didn't have strawberry). Pretty cool!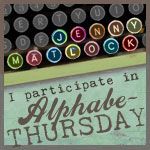 A Mommy's Adventures
hosts the "stART" meme (Story + Art) each week.
Hope Is the Word
hosts a Read Aloud Thursday link-up as well. This week's
Alphabe-Thursday at Jenny Matlock
focuses on the letter "S" so we've linked up our
S
hoe book review with the groovy
S
ong and hope you enjoy our
S
hoe craft and don't forget to check out
S
toryline Online!
I am an Amazon affiliate and may receive a very small commission for products purchased through my Amazon links.
(View my full disclosure statement for more information about my reviews.)