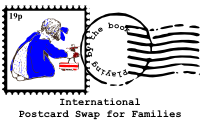 There's nothing better we like to find in our mailbox than a friendly personalized note or letter. Zoe at Playing by the book is hosting an
International Postcard Swap for Families
. The deadline for signing up is this Friday, April 30th. She's hoping that families from all over the world will participate. The swap isn't too intensive - all it requires is that you send 5 postcards to the families she picks for you. In turn, you'll also receive 5 postcards.
For those that like to receive postcards, I'd also recommend
Postcrossing
. This is a large and well organized postcard exchange site. We've been members for a while now and have received some wonderful cards from all over the world.